Press Release & News
Company Tour!January 8th, 2015
Maxtec is pleased to announce that we've relocated to a new manufacturing facility and corporate facility in Salt Lake City, Utah.  Our new facility is much larger than our previous facility and is closer to the Salt Lake City airport, for those who wish to visit Maxtec.  We wish to thank our loyal customers, effective distribution channels, and dependable suppliers that have contributed to the growth and success of our company.  Together we are helping to improve healthcare, "one breath at a time"
Here are a few features of our new location: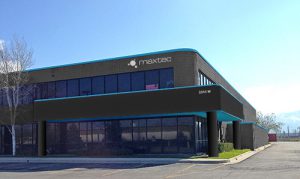 58,000 square feet
5 minutes from downtown Salt Lake City & the airport
Sits on 7 acres of land
Park next door
Jogging/Bike Path
Plenty of parking
Extra security
Trax train station in front of building that provides direct transport to the airport, downtown and across the Utah Valley
If you have any questions, please contact:
Bruce Brierley
CEO
(801) 201-2682
bbrierley@maxtec.com
Happy 14th Anniversary, Maxtec!July 24th, 2014
We would like to thank each of our employees for all of the long hours, the dedication and the devotion! We love you and we thank you for making 14 years possible!

– Bruce & Mary
View the Employee Slideshow.
Superbowl Accessories: IV Pole BasketJanuary 31st, 2014
Are you tuning into The NFL Superbowl or The Animal Planet Puppybowl? Which ever you choose, be sure to pick up an extra IV Pole Basket to hold all of your snacks.
View the INFO for the IV Pole Basket.
Holiday Food Fight!December 9-31st, 2013
What started out as a casual holiday get together turned into an all-out war. Don't miss out on the action; watch the Maxtec Sales and Customer Service teams go crazy as they succumb to the urge to food fight in this funny holiday greeting card!
What a great way to end the year!
Join Maxtec at AARC in AnaheimNovember 16-19th, 2013
Come see us at the Maxtec booth #512 at this years AARC show in Anaheim! See what we have been working on over the last year.
Visit the AARC page for more information.
Welcome to the All-New Maxtec.comOctober 22nd, 2013
With simplicity in mind, it was our goal to create an easy yet informational browsing experience. Each product now features it's own page which will highlight the key benefits that each and every Maxtec product will provide. In turn, this will make your purchasing decision much easier. As an added bonus, each product will now feature it's own educational video for a more visual demonstration of it's features and benefits.
Feel free to browse the NEW Maxtec.com
– Marketing Team
Join Maxtec at DEMA in OrlandoOctober 22nd, 2013
Come stop by the Maxtec booth at the annual DEMA show in Orlando Florida! We're at booth 717 and will be showing our all new iMax Dive Buddy dive logging device.
Visit the DEMA page for more information.
Company
Products
Services
Resources